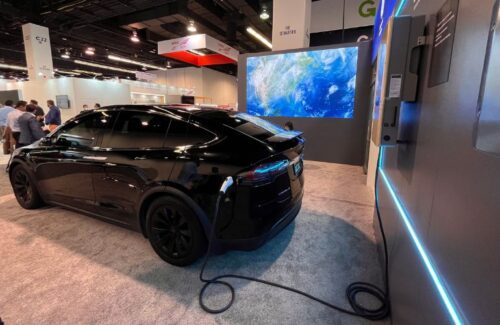 In this era of high gas prices and increasingly severe weather events, consumers are thinking more critically about their home and vehicle energy savings and security. This evolution presents more opportunities for solar installers to expand their offerings to address the whole home energy ecosystem.
Solar marketplace EnergySage recently surveyed 1,000 consumers to find the order of adoption of various green home energy upgrades. The company found the most common entry point was smart thermostats (22%), while solar, electric vehicles (EVs) and energy efficiency audits/retrofits all came in around 13%.
For those who started their journey with EVs, 32% later installed a home EV charger, and 25% then purchased solar power. For those who started with a solar installation, 15% later purchased EVs, and 44% then installed EV chargers.
New inverter products on the market are trending away from the step-by-step, piecemeal approach in favor of an integrated and cohesive solar + EV system.
GoodWe/GE's GEH (rolling out in Q1 2023) and SolarEdge's EV Charging Single Phase Inverter (shipping now) both feature an integrated terminal block that can accept an AC-powered EV charger. The charging cable is inserted directly into the inverter, and a convenient bracket is mounted on the wall to stow the handle when not in use. For homeowners adding both PV and EVs to their homes, an inverter-integrated Level 2 charger could save them money and give them more control over their energy use.
The first benefit of EV-integrated inverters is simpler and cheaper installation. The main electric panel in many homes is located in the basement — far from the garage where they need to charge their vehicle.
SolarEdge's inverter-integrated charger is installed in the garage between a battery and mount for the handle.
"What we find is when you go to install one of these chargers, the installation cost is far greater than the actual cost of the charger, because you need to run this gigantic cable from your basement, through the wall up the house, and then you need to get it to your garage," said Chris Thompson, VP of product at SolarEdge.
This extra cost can be between $1,000 to $4,000, depending on the length of wire needed to reach the charging unit.
"People actually use this as a decision factor when they buy an electric vehicle. They find out, 'Oh boy, to get the vehicle charger installed in my home is going to be $4,000, I think I'm just going to stick with my gas car, because that's like two years' worth of gas.' So it actually discourages adoption of electric vehicles," Thompson said.
But when the charger is integrated in the solar inverter, which is often mounted on the garage wall, that long and costly wire run can be eliminated.
Another advantage of EV-integrated inverters is the ability to avoid a main panel upgrade. Standalone EV chargers typically carry the biggest electrical load in the home — at least double the size of the load from an air conditioning unit or hot tub, Thompson said. That means there's often not enough power available on a 100- or 150-A breaker for an EV charger.
GoodWe/GE's inverter-integrated charger is plugged into a Tesla at RE+ 2022.
PV installations, on the other hand, usually fit on the main panel, depending on the other loads in the home.
"If you put this [EV charger] installation at the inverter, then you can avoid the main panel upgrade, and that saves thousands of dollars," Thompson said.
Jock Patterson, national technical sales lead for GoodWe, said some solar + EV owners may still opt for the standalone charger if they can afford a main panel upgrade and want a higher-speed charger.
"However, for the average person, it seems that this would be a good fit. And certainly, anybody who's considering PV, and the mandate for electric vehicles, especially in California, are going to be incentivized to go down the EV route," Patterson said. "Why force a service upgrade when you can just have one breaker added to the main service panel?"
Inverter-integrated chargers also have the unique benefit of a solar boost during sunlight hours. A standalone EV charger wired at a 40-A breaker is required to be derated to 32 A per the electrical code. But when that charger is wired at the inverter, the extra 8 A can come directly from the inverter.
"The incremental energy is coming from the other source," Thompson said. "It's just clever engineering."
Whether homeowners are motivated by the desire to pull as little high-priced electricity from the grid as possible or to be the most eco-friendly residents on the block, the new inverter-integrated chargers are the best way to ensure consumers are putting solar energy into their EVs.
SolarEdge's app displays the EV charging status, including the amount of solar PV used to charge the vehicle.
"This is a unique function, because the only way you can do that is if the charging system has visibility to PV production," Thompson said. "The system as a whole knows what's going on at the vehicle and knows how much solar is being produced. And it can make sure that the vehicle is only being charged from solar power. It has the entirety of information."
All of the PV generation and solar charging preferences are centralized in each inverter manufacturer's proprietary app.
Still, unless a person keeps the car at home during the day and plugged in during peak sun hours, they won't be able to charge their vehicles 100% of the time from their rooftop PV. That's why the inverter apps allow users to schedule EV charging from the grid around off-peak time-of-use rates to get the lowest-cost electricity.
"I think they like the flexibility. There are moments where I need to get this thing charged right now. But when I'm not in a rush, I like to do just clean energy," GoodWe's Patterson said.
Strategically using the energy produced by rooftop solar could change even more as time goes on and regulations catch up to technology. Thompson said he sees a future where the vehicle plays an interactive role within the home — providing bidirectional vehicle-to-home or even vehicle-to-vehicle energy. If one EV is at 100% and another needs 10% more energy, vehicle-to-vehicle energy transfers could help avoid grid charging during non-solar hours.
Cars will be just another piece of the home energy puzzle — instead of buying numerous stationary storage units for the home, residents will just need a couple batteries installed since they'll be able to use their EV as another form of backup power.
"The vehicle will be in the home and will be a complete asset, meaning during the day, you can charge your vehicle from solar. At night, you could discharge your vehicle in the home. During day or night, you could transfer energy from a stationary battery to a vehicle, or vice versa," Thompson said.