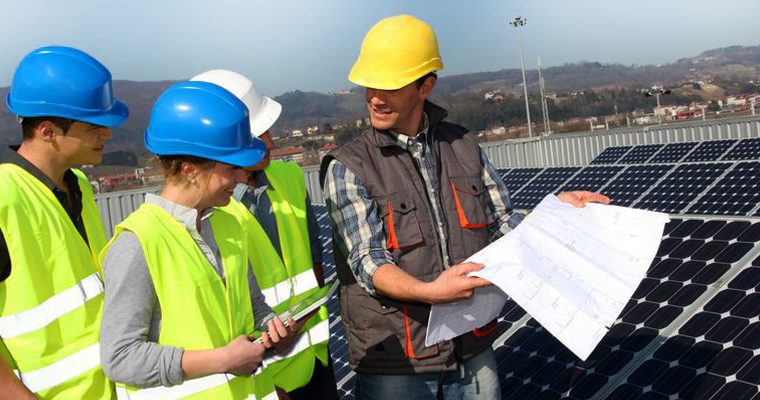 The Building Equity in Solar Training (BEST) program, aimed at providing skills-based training and certifications necessary for a successful career in solar, energy storage, and EV charging, has been officially launched on a national scale.
The BEST program is being presented by GRID Alternatives, Solar Energy International (SEI), Jobs for the Future, as well as local partners such as Elevate and Community and Economic Development Association of Cook County (CEDA) Illinois. Reactivate CEO Utopia Hill, from a joint-venture between Lafayette Square and Invenergy, collaborated with various organizations to establish BEST and will inaugurate the program in Chicago.
Through BEST, individuals and communities will receive resources and support to secure job placement in the renewable energy industry after training, ultimately promoting greater diversity and representation within the sector. BEST aims to establish sustainable careers with family-sustaining wages, rather than just jobs.
BEST is an equity-driven, outcomes-based workforce training program that prioritizes quality. The program collaborates with local partners, including Elevate, to ensure that individuals from underserved or disadvantaged populations have the necessary support to enrol, complete training, and pursue a career with family-sustaining wages. This support includes paid training, tutoring, transportation assistance, childcare assistance, case management, and other services to help overcome any potential barriers. BEST also caters to trainees from energy transition communities, justice-involved individuals, as well as women and members of the BIPOC community.
GRID, SEI, and Jobs for the Future experienced solar curriculum facilitators, collaborated to design and create BEST's curriculum. The program employs a combination of industry-standard training modules, including the North American Board of Certified Energy Practitioners (NABCEP) Installer Certification, OSHA 30, First Aid/CPR, operator training, general building trades training, and customized content tailored to meet the specific occupational demand and needs of target populations (e.g., Spanish-speaking individuals). The curriculum also focuses on essential skills such as leadership development, problem-solving, teamwork, and a strong work ethic. BEST employs a mix of classroom and hands-on training approaches to ensure trainees are well-prepared to enter the solar workforce upon program completion, which Reactivate considers critical.
In February 2023, the initial cohort of individuals in Chicago began a 16-week program, set to graduate in June of the same year. Reactivate sponsored a new hands-on training lab at the CEDA facility, providing trainees with an optimized environment for practical learning. Throughout the program, trainees will meet with various employers, including those associated with Reactivate's community solar projects in the Chicagoland area.
Utopia Hill, CEO of Reactivate stated that "We all understand the importance of a transition to renewable energy to meet our climate goals. Those goals can only be accomplished if we provide opportunities and equitable training to everyone, especially those who have historically been underrepresented in this sector". "The teams at CEDA, Elevate, GRID, SEI, and Jobs for the Future are all aligned with Reactivate on this mission and are determined to ensure the long-term success of our trainees. This program is the direct avenue to achieve Reactivate's goal of facilitating workforce training for 2,500 underserved workers by 2030, and we look forward to expanding this program in new markets across the U.S."