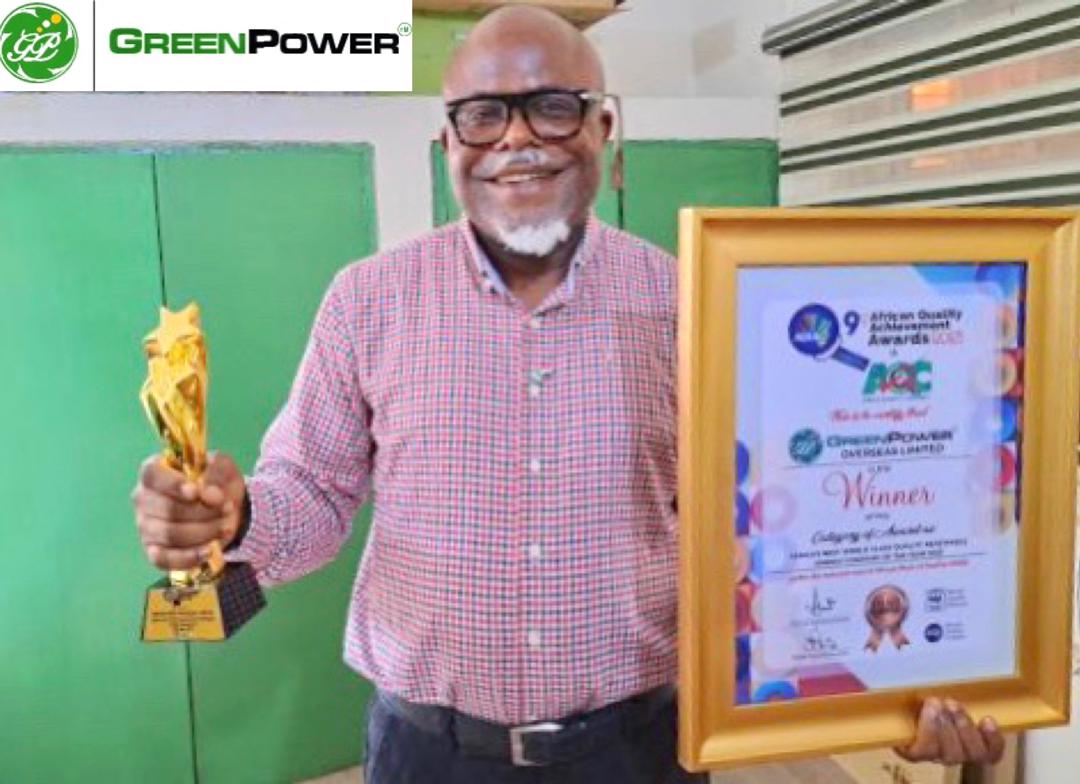 GreenPower Overseas Ltd, a leading renewable energy service provider, has been honoured with the prestigious African Best World Class Quality Renewable Energy Company of the Year 2023 award. The announcement was made at an event held last Friday, attended by stakeholders from the power sector, industry CEOs, and prominent figures in various industries.
The African Quality Achievement Awards (AQAA) annual event was initiated to celebrate and engage professionals, practitioners, and the government on quality culture and management in Africa. The award recognizes and rewards companies and products demonstrating a commitment to quality culture and management best practices in achieving their corporate objectives.
Ifeoma Emeka, the secretary of AQAA's general committee, emphasized the importance of celebrating quality excellence in Africa and leveraging it to develop innovative solutions for the future. Emeka also highlighted the Africa Quality Congress (AQC) as an integral part of the event, serving as a platform for exchanging ideas and driving the quality agenda. The congress offered delegates a day of informative and inspiring discussions, promoting a greater understanding of the significance of operational effectiveness and efficiency for organizational success.
During the awards night, the 'Quality Standards Journal,' a Pan African Magazine published by the World Quality Alliance with the support of the African Quality Institute, was unveiled, further emphasizing the commitment to promoting quality in Africa.
Engr. Bamidele Faparusi, Chairman of GreenPower Overseas Ltd, expressed his appreciation to the AQAA for providing a platform for companies to showcase their products and services in terms of quality. Faparusi emphasized that winning such an award validates their commitment to excellence and opens up opportunities to engage with potential customers, partners, and industry professionals, allowing for valuable feedback and market insights. He also acknowledged that participating in such events enhances visibility and networking opportunities, contributing to the growth and development of businesses.
The award night was graced by esteemed dignitaries including Hazza Khaifan Aineaimei, Chairman of Dubai Quality Group; Celestine O. Okanya, Chairman of Pan Africa Quality Infrastructure (PAQI); Sandhya Boygah, Director-General of Mauritius Standard Bureau; Raymond Murenzi, Director-General of Rwanda Bureau of Standards, and Bernard N. Njirani, Managing Director of Kenya Bureau of Standards.
GreenPower Overseas Ltd's recognition as the African Best World Class Quality Renewable Energy Company of the Year 2023 demonstrates the company's commitment to delivering exceptional renewable energy solutions and promoting a culture of quality within the African continent.