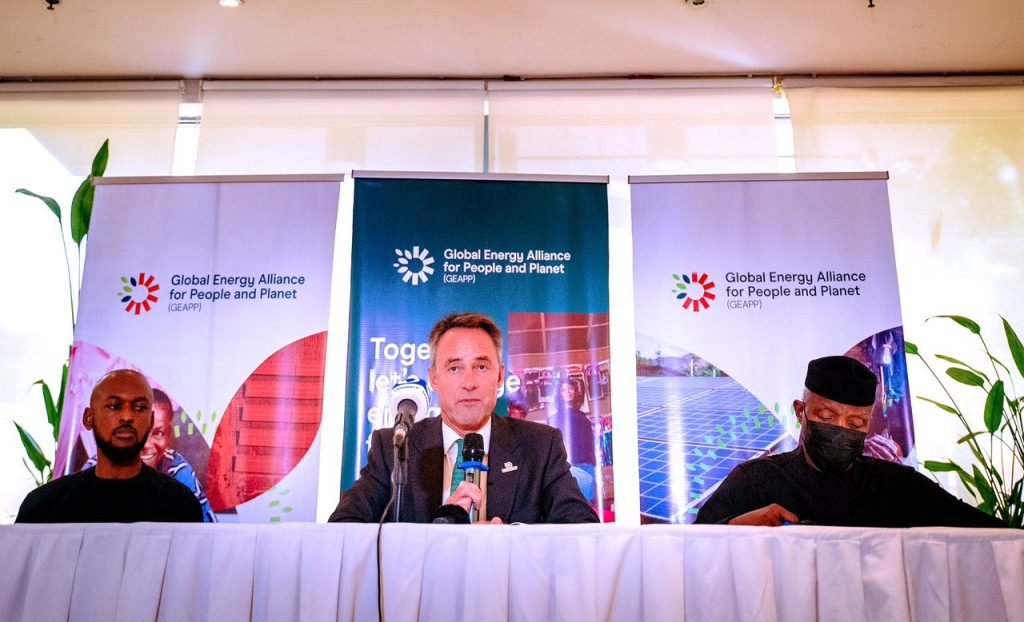 Former Vice President of Nigeria, H.E. Professor Yemi Osinbajo SAN, has been appointed as Global Advisor by the Global Energy Alliance for People and Planet (GEAPP). The alliance aims to accelerate the deployment of clean energy in developing nations. In his new role, Prof. Osinbajo will provide support to GEAPP in forging partnerships with governments to improve the conducive environment and efficiency of delivering clean energy projects. This collaborative effort will facilitate increased capital investments in the clean energy sector. Additionally, he will continue his advocacy for Just Energy Transitions in Africa and work towards boosting Africa's participation in the global carbon market through the Africa Carbon Markets Initiative (ACMI).
Furthermore, Prof. Osinbajo's commitment to promoting democratic processes extends beyond his involvement with GEAPP. Recently, he was appointed as the lead for the Commonwealth general election observers in Sierra Leone, showcasing his dedication to fostering fair and transparent elections.
Before joining GEAPP, Prof. Osinbajo had a distinguished career in public service. He served as Vice President of the Federal Republic of Nigeria for eight years, bringing his expertise and leadership to the nation. Prior to that, he held the position of Attorney General and Commissioner of Justice for Lagos State. His legal acumen and contributions earned him the prestigious title of Senior Advocate of Nigeria.
Throughout his tenure in public office, Prof. Osinbajo championed numerous initiatives and programs that prioritized the welfare of the people. He played a pivotal role in addressing issues related to access to justice, energy access, and social investments, reflecting his commitment to improving the lives of Nigerians. Furthermore, Prof. Osinbajo's dedication to legal scholarship is evident in his role as a Professor of Law and head of the department at the University of Lagos.
Prof. Osinbajo's expertise extends beyond national borders. He is a member of esteemed organizations such as the International Bar Association and the British Institute of International and Comparative Law. In Nigeria, he has served on the Nigerian Body of Benchers and the Council for Legal Education, further solidifying his influence and impact within the legal community.
This appointment reaffirms GEAPP's dedication to collaborating with governments and communities in Africa, Asia, Latin America, and the Caribbean to facilitate the transition to clean energy systems. These sustainable energy solutions foster economic growth, create job opportunities and sustainable livelihoods, and address urgent climate goals for the next decade.
Prof. Yemi Osinbajo Stated that, "I am honoured by the opportunity to join this movement for green energy access. GEAPP's collaborative model, sense of urgency, and focus on unlocking systemic change is well aligned with the ambitions of emerging economies as they seek a greener future for their citizens. GEAPP's vision for change is ambitious. That is entirely fitting; if we're to achieve our twin goals of universal energy access and climate change action while transforming the lives of millions, then we must set our sights high."
GEAPP CEO Simon Harford also stated that, "For many years His Excellency Prof. Yemi Osinbajo has been a respected role model of public service at the forefront of policy formulation and implementation on crucial developmental issues relating to national planning, climate change, enabling the business and investment environment, governance, and social investment. His professional expertise and leadership, alongside his broad global network and relationships, will be a valuable catalyst in GEAPP's mission for affordable access to clean energy and a just transition for all."