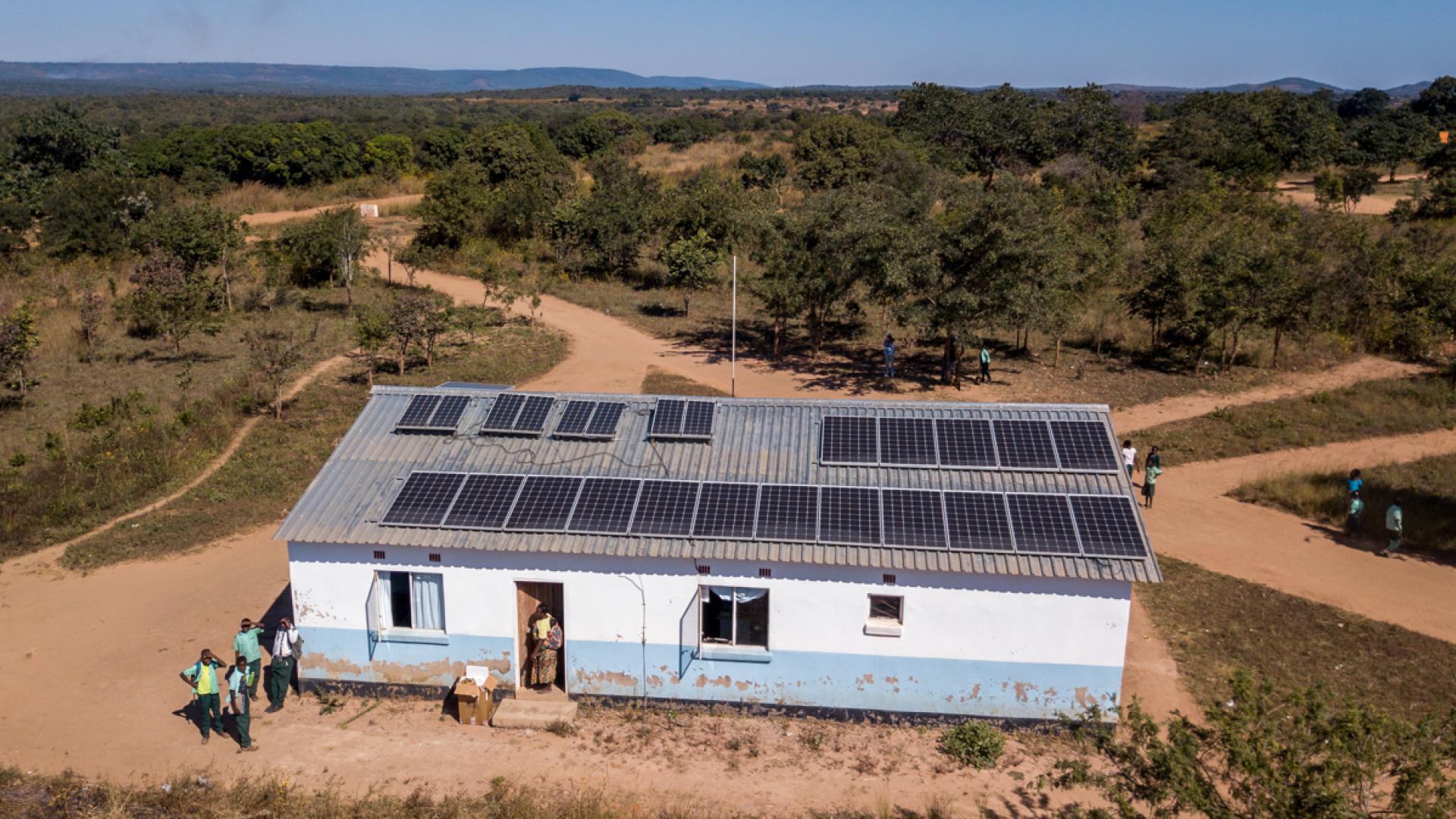 Residents of Oltukai village in Monduli District, located in the Arusha region of Northern Tanzania, had to travel long distances to neighbouring villages to receive medical attention seven years ago. With no health facility in their village, accessing medical treatment was considered a luxury. The villagers had to resort to traditional remedies, and pregnant women had to give birth at home. In dire circumstances, those who couldn't afford to hire transportation had to walk long distances to reach the district health centre.
The government's decision to build a dispensary in the village relieved the villagers' hardships. However, the construction of the dispensary did not completely resolve the healthcare issues. Initially, the Oltukai dispensary did not have access to electricity, which meant that patients couldn't be treated at night, and essential services requiring electricity were unavailable.
Midwives at the Oltukai Dispensary were forced to use paraffin lamps or torches as an alternative source of lighting in the absence of electricity. Yasinta Basil, a midwife at the facility, recounted the poor working conditions she and her colleagues faced from 2018 to 2020. Without electricity, providing services, particularly at night, was a challenge, and it even posed risks to their own health. The use of mobile phone lights and oil lamps was insufficient for them to deliver quality healthcare services to their patients.
Kerosene was the most commonly used source of lighting energy, but there were very few shops that sold it, which posed more challenges at the health facility when patients arrived at night, according to Raphael Lomnyaki, the Oltukai Village Executive Officer. Lomnyaki, who heads a predominantly pastoral and agricultural village, stated that there was no difference between giving birth at home and in the dispensary because it was dark everywhere, and mothers and children had difficulties accessing healthcare.
This problem was not unique to Oltukai village but was a widespread issue faced by many villages in the district. In Eluwai, another part of the district, residents also had trouble accessing quality healthcare. The Eluwai dispensary, which was established in 2018, also lacked electricity, causing villagers to travel more than 20 kilometres to seek medical services. Like the Oltukai dispensary, receiving services at night was a nightmare due to the lack of electricity at the health facility.
The situation changed five years later when a local non-governmental organization, the Elico Foundation, installed solar power to provide electricity to the facility. Since the installation of the solar system in 2022, there has been light from morning until midnight, and various machines at the Oltukai dispensary, such as those used for storing medicines and medical equipment, have been operating around the clock.
A recent report by the World Health Organization (WHO), the World Bank, the International Renewable Energy Agency (IRENA), and Sustainable Energy for All (SEforAll) revealed that around 12% and 15% of healthcare facilities in low- and lower-middle-income countries in South Asia and Sub-Saharan Africa, respectively, have no access to electricity.
According to the report, at least 25,000 healthcare facilities in Sub-Saharan Africa lack access to electricity, and 68,350 healthcare facilities only have access to unreliable electricity. The report also states that only half of the hospitals in Sub-Saharan Africa have access to reliable electricity. The availability of electricity in any health facility can have numerous benefits, including saving lives.
To address the electricity crisis, the Lupembe Lwasenga dispensary in the Iringa region of the Southern Highlands of Tanzania began using a small solar panel. While the solar panel did not meet all of the facility's electricity needs, it helped provide lighting that enabled nurses and midwives to provide services.
However, the facility administration reported that during the rainy season, the small solar panel was not efficient, leaving the facility in darkness once again. Pregnant women had to use their cell phone flashlights, kerosene lamps, or candles to enable nurses to see, which was similar to the situation in two villages in Arusha. This situation was distressing for both service providers and patients, and the health effects of inhaling smoke from candles and kerosene lamps posed a danger to both mothers and babies.
Midwife Eveline Kadege reports that the dispensary received a large solar power panel upgrade in 2020, enabling the facility to have full access to lights and operate the refrigerator that stores medicines and vaccines, among other things. Since then, the facility has been able to provide health services to patients at any time without worry.
The availability of electricity in health-care facilities is crucial for saving lives, improving the quality of healthcare, and reducing the cost of healthcare for the community. In Lupembe Lwasenga Dispensary, the installation of a solar power system has enabled the provision of reliable and quality healthcare services to the community. The upgrade has resulted in increased access to vaccines for children and improved maternal health. The facility serves neighbouring villages such as Itwaga, Msuluti, and Lyamgungwe, making it a significant health center for the community. The installation of reliable electricity in the dispensary has also reduced the high costs that the community incurred while accessing healthcare services from neighbouring villages.
Felister Pangalasi stated that they would sometimes miss vaccinating their children before the installation of electricity at the dispensary. The Elico Foundation, with the support of the Shine Campaign, has since installed two solar microgrids in Oltukai and Eluwai villages to power essential equipment and provide 24-hour lighting for the entire health facilities. However, it is worth noting that not all villages have access to reliable electricity, as Tanzania's government and clean energy stakeholders have been investing heavily in electrifying rural areas through the Rural Electrification Energy initiatives, but financial constraints limit their reach. Clean energy experts and investors suggest that investing in solar power can reduce the burden of people living in remote areas by providing them with reliable electricity.
Solar energy is the most Reliable Option
According to Sisty Basil, the Executive Director of Elico Foundation, there is a higher demand for solar-powered systems in health facilities located outside the national grid in Tanzania than the supply due to financial constraints. Elico Foundation has installed solar systems in dozens of villages in Tanzania, in partnership with the government and other stakeholders, and has managed to install large solar power systems as a backup or main source of power in health facilities in Lupembe Lwasenga, Oltukai and Eluwai. The system can also run an ultrasound machine and provide enough power to run a fridge for the storage of vaccines and other life-saving medicines. Elico Foundation has served in five health centres in the three regions of Iringa, Dodoma, and Arusha, but there is still a need for more solar power in other villages.
Basil said that the reason for investing in this area is to ensure that the community gets the best health services to enable them to participate in development projects. Solar energy is cost-effective, environmentally friendly, and can be installed quickly, making it a solution to the challenges faced by communities. Basil said that solar energy has the potential to power health appliances and improve people's lives, contributing to achieving the Sustainable Development Goals (SDGs). The government, through the Rural Energy Agency (REA), has been ensuring that all villages and neighbourhoods have access to electricity, especially in hospitals, schools, and households.
According to the Ministry of Energy, as of December 2022, 9,467 villages in Tanzania Mainland, or about 77 per cent, have been connected to electricity. However, there is still a need to connect more health facilities and other services, such as schools, to reliable power sources. The Energy Minister, January Makamba, recently addressed electrical contractors in Dodoma and stated that there are ongoing projects worth 6 trillion Shillings aimed at connecting all remaining villages and streets. He emphasized that the government aims to achieve this project within a short period of time, not exceeding six years.
Source: Sun-Connect