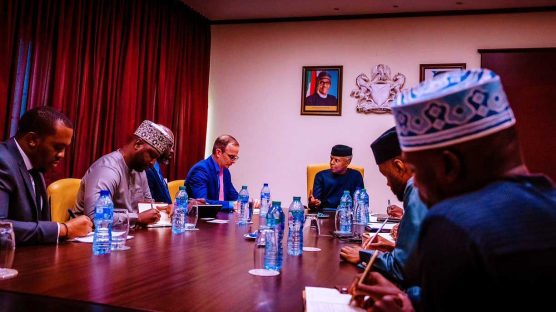 The Universal Energy Facility (UEF) under Sustainable Energy for All, which functions as a results-based financing facility, signed a contract with renewable energy firms that had proposed financing under Nigeria's Stand-alone Solar for Productive Use initiative, on Thursday 23rd of February, 2023. Dignitaries from both public and private sectors attended the grand signing ceremony in Lagos. The event marked the beginning of construction for proposed solar projects by these companies, which aim to connect businesses and services to a clean, affordable, and reliable electricity source.
The projects are expected to cover most states in Nigeria and will be completed within the next 12 months. Collectively, they will provide connections for around 3,500 businesses, markets, shopping malls, cold-storage facilities, clinics, schools, and other productive uses of energy. These uses will support economic activity and community infrastructure.
By functioning as stand-alone solar energy projects, they will eliminate the need for businesses and services to depend on expensive, polluting fossil fuel generators as their source of power. The UEF has estimated that once all of the proposed projects are implemented, they will save approximately 5,400 tons of CO2 equivalents per year. Damilola Ogunbiyi, CEO and Special Representative of the UN Secretary-General for Sustainable Energy for All stated, "With this programme in Nigeria, the Universal Energy Facility will demonstrate the enabling power that sustainable energy can have on local economic development and climate action. Solar projects supported by the facility will give businesses clean and affordable electricity to help them scale up, create jobs, and replace polluting power sources."
In the previous year, the Nigerian government initiated its Energy Transition Plan, which outlines how the country will attain universal energy access by 2030 and reach net-zero emissions by the middle of the century. The plan also highlights the necessary financial resources required to achieve these objectives. The UEF is supporting the financial objectives of the power sector outlined in the plan by providing grants that companies can utilize to attract additional funding for clean energy.
"The Universal Energy Facility aims to support the expansion of solar companies to small and medium-sized enterprises across Nigeria through grant payments, while also attracting more private capital," stated Prof. Yemi Osinbajo SAN, Vice President of the Federal Republic of Nigeria. "The projects backed by the Universal Energy Facility will not only boost businesses but also generate employment opportunities, thus playing a significant role in our Energy Transition Plan."
"The Universal Energy Facility programme demonstrates targeted investment in our power sector, which is aligned with our objective of providing energy access to all Nigerians," stated Hon. Goddy Jedy Agba, Minister of State for Power of the Federal Republic of Nigeria.
After opening for applications in August 2022, the Stand-alone Solar for Productive Use programme in Nigeria received expressions of interest from hundreds of energy developers. "As a result of the successful response to this programme in Nigeria, we have now selected grantees who can commence the development of transformative stand-alone solar projects," stated Anita Otubu, Senior Director, of Universal Energy Facility. "The Universal Energy Facility's results-based finance approach is proving to be effective in driving energy development at a rapid pace and significant scale."
"The global energy transition must prioritize both people and the planet, by fostering economic opportunities and reducing the use of carbon-intensive technologies. The Universal Energy Facility's efforts to provide country-specific solutions to communities most affected by energy poverty and climate change have the support of the Global Energy Alliance for People and Planet (GEAPP). We are proud to be associated with the UEF and believe it has the potential to become a unifying force and a leading platform for those interested in results-based financing," stated Simon Harford, CEO, Global Energy Alliance for People and Planet.
This marks the first grant funding round under the Stand-alone Solar for Productive Use programme in Nigeria. The UEF has already identified several other promising projects that could be financed in future rounds.