On August 18th, the National Automotive Design and Development Council (NADDC) unveiled a solar-powered electric vehicle charging station at the University of Nigeria, Nsukka (UNN). The Director General of the Council, Jelani Aliyu, emphasized the organization's commitment to technological advancement in the automotive industry. The primary objective of this initiative is to reduce the use of fossil fuel vehicles, which pose significant harm to the environment and contribute to global warming.
"Global warming and climate change are detrimental to human health and pollute our environment; many countries are moving away from fossil fuels vehicles to electric vehicles because of their adverse effects.
"This informs why NADDC, an agency in the Federal Ministry of Industry, Trade and Investment, is sponsored by the government to build electric vehicle charging stations powered by solar across the country.
"This is to ensure zero per cent carbon emission in our environment and reduce associated health problems."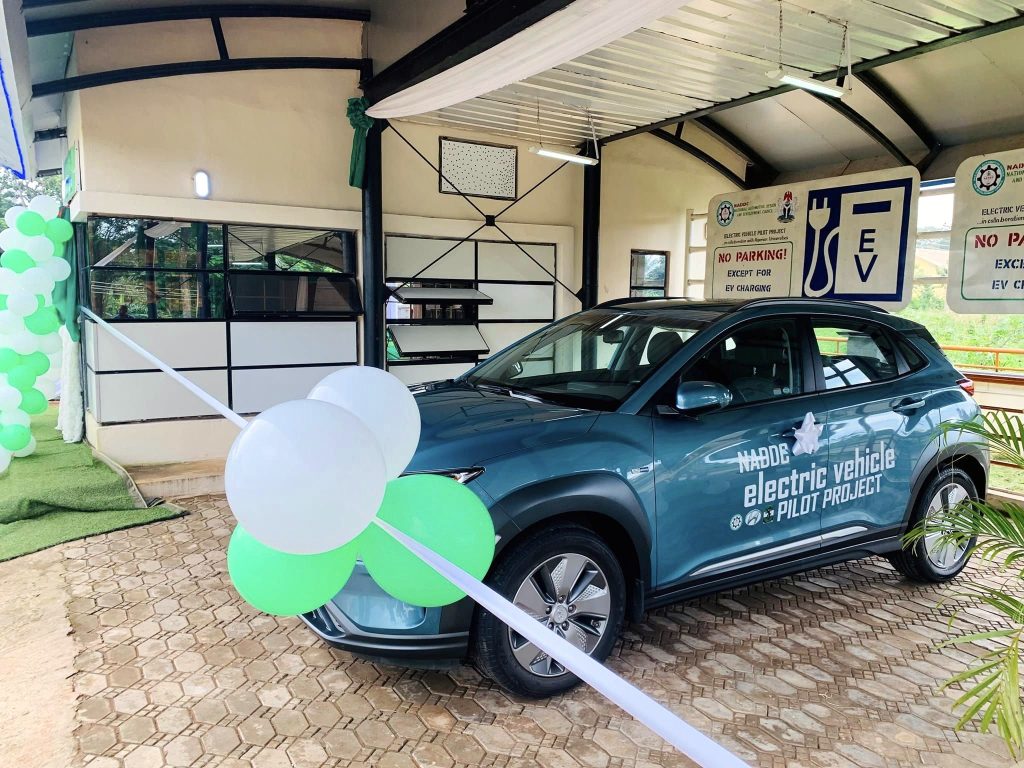 Jelani Aliyu, who was represented by Olarawaju Omusanya, the Director of Infrastructures in NADDC, said that Usman Danfodo University, Sokoto, University of Lagos and University of Nigeria, Nsukka were the three universities selected for the pilot project.
Represented by Olarawaju Omusanya, the Director of Infrastructures at NADDC, Jelani Aliyu stated that Usman Danfodo University in Sokoto, the University of Lagos, and the University of Nigeria in Nsukka were chosen for the pilot project.
"The Usman Danfodo University Sokoto and University of Lagos were inaugurated in 2021 and today, we are inaugurating that of the University of Nigeria, Nsukka.
"The automotive council encourages universities in the country to utilise this opportunity by stimulating further research and development for this project.''
The Director-General said that the council would continue to promote advance technology transfer and development of domesticated human capital.
"It is expected that the solar powered charging station will offer staff and students firsthand experience in mobility and power renewable technology.
"An electric vehicle fully charged in this station will travel 480 kilometres before it will stop.
"Globally, there is ongoing transition from petrol, diesel vehicles to electric vehicles."
He praised Professor Charles Igwe, the Vice-Chancellor of UNN, and the university's management for their unwavering support in ensuring the project's completion and inauguration. In response, Professor Igwe expressed his gratitude to the NADDC for selecting UNN as one of the pilot institutions for the initiative. He emphasized that UNN, being the premier university in the country, would uphold its commitment to excellence. Furthermore, the Vice-Chancellor encouraged the UNN faculty of engineering to work towards converting a significant number of the university's vehicles to electric models.
Lorem ipsum dolor sit amet, consectetur adipiscing elit. Ut elit tellus, luctus nec ullamcorper mattis, pulvinar dapibus leo."Now there is solar powered charging electric vehicles station, our engineers in the university should take the advantage to convert our vehicles to electric, to reduce the cost of buying petrol and diesel.
"The university is grateful to the government for choosing UNN as one of the pilot universities in this landmark project,'' Igwe said.
Professor Ozomena Ani, the UNN Coordinator of the project, commended the UNN vice chancellor for approving and allowing him to coordinate the project at the university.
Ani, an engineer and a lecturer in the Faculty of Engineering at UNN, said that his research team would ensure the maintenance of the project.
Earlier, Prof. Emenike Ejiogu, the Dean of the Faculty of Engineering UNN, represented by Prof. Sunday Ezeoha, said the faculty would continue to provide the required human resources in engineering.
"The faculty is happy that NADDC solar power charging electric station is located in our faculty; the faculty will ensure the university community and other residents reap the benefits of the project,'' Ejiogu said